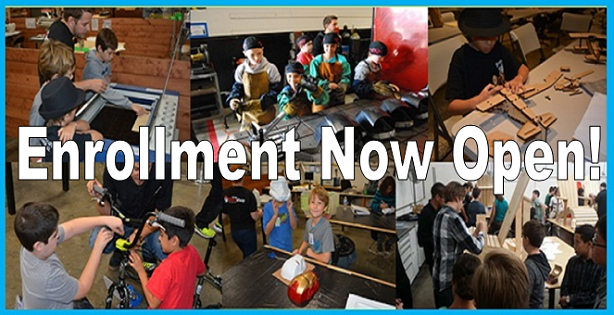 Urban Workshop's 12 Week Youth Learn and Build S.T.E.M. Program is designed to create a relaxed and pressure-free environment in which students, ages 10 to 16, learn to use a wide selection of hand and power tools with a variety of materials. Each individual class introduces participants to a new group of tools and techniques, and includes a project.  Your child will build confidence and independence learning practical skills by experiencing firsthand engineering and technical problem solving.  Using both traditional and high-end equipment, they will explore career opportunities that will benefit them for a lifetime.
New for Fall 2016 is our Level 3 Advanced Kids Program that will dig deeper in all areas covered so far and will add new techniques. All classes start the week of September 12, 2016 and the following days and times:
Level 3 class Mondays 9:00 a.m. to 12:00 p.m
Level 2 class Wednesdays 9:00 a.m. to 12:00 pm
Level 1 class Wednesdays 1:00 p.m. to 4:00 p.m.
Level 1 class Fridays 9:00 a.m. to 12:00 p.m.
Click the links above to get started on your enrollment today as space is limited!
Charter School Parents! Did you know you can use your Charter School funds? We are registered vendors with many Charter Schools in Southern California; please see the complete list on our webpage!
These are no ordinary STEM classes, more like old school shop classes really. The kids will have fun, get dirty, use loud and obnoxious tools and make a lot saw dust, metal chips and wire scraps along the way!