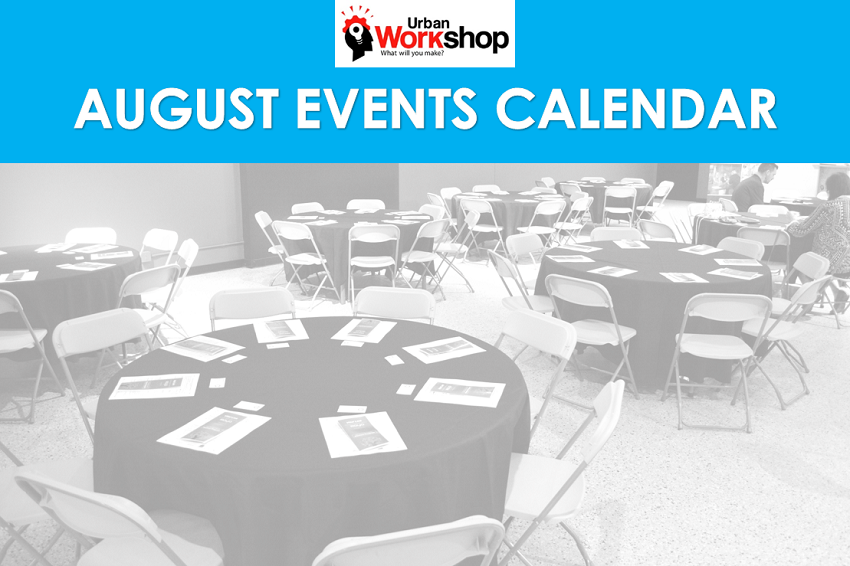 We have some terrific events happening at Urban Workshop this month!  
Tuesday, August 9

6:30 p.m. to 9:00 p.m.

Raspberry Pi User Group Meetup

https://www.meetup.com/EarthMake/

Our regular meeting plus open lab. We have food drinks and doors open at 6:30 for socializing. Feel free to bring your laptop, Arduino & Pi projects

Saturday, August 12

1:00 p.m. to 3:00 p.m.

SoCal Innovators, Mentors and Developers Meetup

https://www.meetup.com/socalinnovators/events/242056755/

Get ready to be part of a Weekend Meetup group that allows you to ENGAGE in ways you never have before!
We will introduce you to:
• our new unconventional, trail-blazing approach
• our potent agenda for the coming months, and
• some of the key people within our group.
We'll also give you a preview of some of our upcoming influential speakers – who are instrumental in improving the success of startups.

Monday, August 21

11:00 a.m. to 1:00 p.m.

Inspire Charter Schools Vendor Fair

Wednesday, August 23

Off-site event

Excel Charter School Vendor Fair

Brookhurst Community College Anaheim

https://www.excelacademy.education/calendar/event/vendor-fair/

Thursday, August 17

6:00 p.m. to 8:00 p.m.

Selling Your Story to the Investor Workshop

Presented by Persuasive Business Plans

https://www.eventbrite.com/e/sell-your-story-to-investors-seminar-tickets-36839251192

Friday, August 25

7:00 p.m. to 10:00 p.m.

Inventors Forum Member Assistance Meeting

Tuesday, August 29

4:30 p.m. to 6:00 p.m.

Orange County Maker Challenge Orientation Meeting

http://www.ocmakerchallenge.com/

Orange County secondary and post-secondary student populations have an opportunity to participate in an integrated STEM design project. Join The Maker Challenge for an authentic experience and creative environment that combines STEM technologies, Art and Design in a culture of inquiry, problem solving, and active engagement!

Thursday, August 31

Summit Academy Vendor Fair

September 8-9

California Homeschool Network Annual Expo
We have a 2,000 sq ft event hall with an adjoined 16,000 sq ft workshop and offers the ability to hold corporate and team building events, build competitions, charity events, school and training programs, and parties.  The facility is complete with a Bose public address system and Dell over head projection system. The large space allows for many table configurations. We have a kitchen that can be used for staging and serving to large groups. We invite you visit Urban Workshop to see the space first hand and envision the possibilities of this truly unique and flexible space, or contact us at events@urbanworkshop.net to book your event today!