Welcome to the Urban Workshop Blog
Here is a sample of what's happening at Urban Workshop!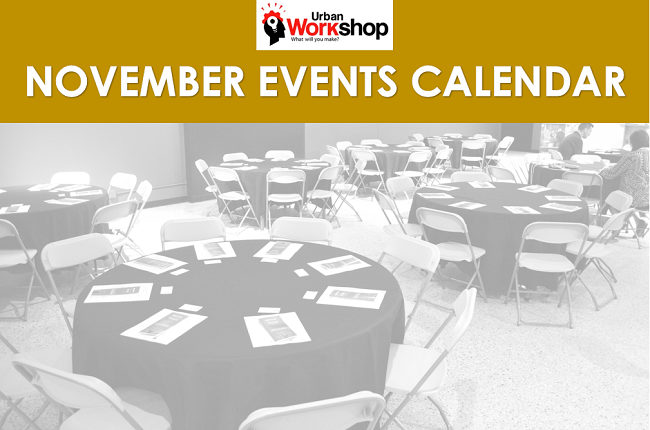 We have some terrific events happening at Urban Workshop this month!
We have a 2,000 sq ft event hall with an adjoined 16,000 sq ft workshop and offers the ability to hold corporate and team building events, build competitions, charity events, school and training programs, and parties.  The facility is complete with a Bose public address system and Dell over head projection system. The large space allows for many table configurations. We have a kitchen that can be used for staging and serving to large groups. We invite you visit Urban Workshop to see the space first hand and envision the possibilities of this truly unique and flexible space, or contact us at events@urbanworkshop.net to book your event today!
Wednesday, November 1

6:15 pm to 9:00 pm

TIME OC Meetup at Urban Workshop

https://www.meetup.com/timeoc/events/244483539/

Bring your startup and technology topics, questions, and fun attitude for an open mastermind discussion.  If you have an idea for a startup, want feedback, or just talk about the latest technology, we are for you! All are welcome including beginners, experts and everything in between. Come and join in!

Thursday, November 2

6:00 pm to 9:00 pm

Free Small Business Workshop

Join Urban Workshop as we host Kevin Meredith from WESEE Collective, as he guides us on an interactive and thought provoking evening focused on innovation at Urban Workshop! This session will explore key insights and tools focused on early stage opportunities and innovations, designed to help makers, startups and local companies developing a product or service identify and test the most critical assumptions impacting value realization and market adoption.

Free tickets are available on our Eventbrite  page: https://www.eventbrite.com/e/free-small-business-workshop-destination-innovation-tickets-39194363396

Tuesday, November 7

4:00 pm to 7:00 pm

OCDE Teacher training at Urban Workshop

Wednesday, November 8

6:30 pm to 9:00 pm

EARTHMAKE-OC Arduino + Raspberry Pi Electronics Makers Meetup

https://www.meetup.com/EarthMake/

Our regular meeting plus open lab Arduinoist & Pi-sters. Refreshments provided and doors open at 6:30 for socializing. Feel free to bring your laptop, Arduino & Pi projects.

 

Thursday, November 9

7:00 am to 9:00 am

ITEP Career Educator's Breakfast at Urban Workshop

Saturday, November 11

Veterans Day

Thank you to those who served. Urban Workshop will be open 9:00 am to 4:00 pm

Tuesday, November 14

4:00 pm to 7:00 pm

OCDE Teacher training at Urban Workshop

Wednesday, November 15

6:00 pm to 8:00 pm

Trademarks & Branding Free Small Business Workshop

Join us on Wednesday November 15 at 6:00 pm as we host Public Law Center as they present PROTECT YOUR BRAND!  Free Trademarks Workshop for Inventors, Entrepreneurs and Small Business Owners.  Learn the crucial points of protecting your business' valuable intangible assets (your logo, slogan or brand) through basic information about trademarks.  Demystify the trademark process by learning what trademarks are and what they do; Trademarks vs Copyrights vs Trade secrets; the trademark application process; how to protect your domain name, and MORE!

If you are a small business owner, Inventor or Entrepreneur, you don't want to miss this!  Free tickets are available on our Eventbrite page: https://www.eventbrite.com/e/protect-your-brand-free-small-business-workshop-tickets-38969891996

Thursday, November 16

6:00 pm to 7:00 pm

Free Small Business Workshop

Open to all – Watch for more information!

Week of

November 19 to November 25

Youth Programs Holiday week

Thursday and Friday

November 23 and 24

Happy Thanksgiving! 

Urban Workshop will be closed to celebrate the holiday with our families.  We will re-open on Saturday, November 25.

Tuesday, November 28

4:00 pm to 7:00 pm

OCDE Teacher training at Urban Workshop

Wednesday, November 29

6:00 pm to 8:30 pm

Free Small Business Workshop!

Join us on Wednesday, November 29, 2017 as we host Public Law Center's Free Small Business Workshop "Legal Topics in Starting A Small Business in California".  If you're thinking about starting a small business in California, are an entrepreneur or inventor, come to the workshop to learn about the principal types of legal business structures available in California; practical considerations to starting your business; the responsibilities of small business owners and more!

Volunteer attorneys from PLC and SCORE will be available to assist attendees with business questions both during and after the workshop!  Free tickets are available on our Eventbrite page: https://www.eventbrite.com/e/legal-topics-in-starting-a-small-business-workshop-tickets-38972539916