Welcome to the Urban Workshop Blog
Here is a sample of what's happening at Urban Workshop!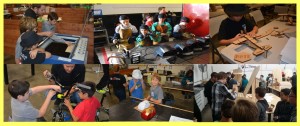 Want a different experience for your child this summer? Urban Workshop's one-week Junior Maker summer camps will give your kids, ages 10 to 16, the hands-on experience of becoming a Maker and develop a life-long love of learning, creating, and building!
Geared towards beginners, our program introduces them to a wide selection of hand tools and a wide variety of materials, all in a relaxed, pressure-free environment!  Your kids will learn 3D Printing, Autodesk Fusion360, Laser Engraving, Silkscreening, Basic Electronics, Woodworking, and More!  Camps are one week long, from 9:00 a.m. to 4:00 p.m., and begin on May 16, 2016!
For more information and registration, visit our Education Programs tab!
Come visit us at Imaginology April 15 through 17, 2016 at the Orange County Fairgrounds!