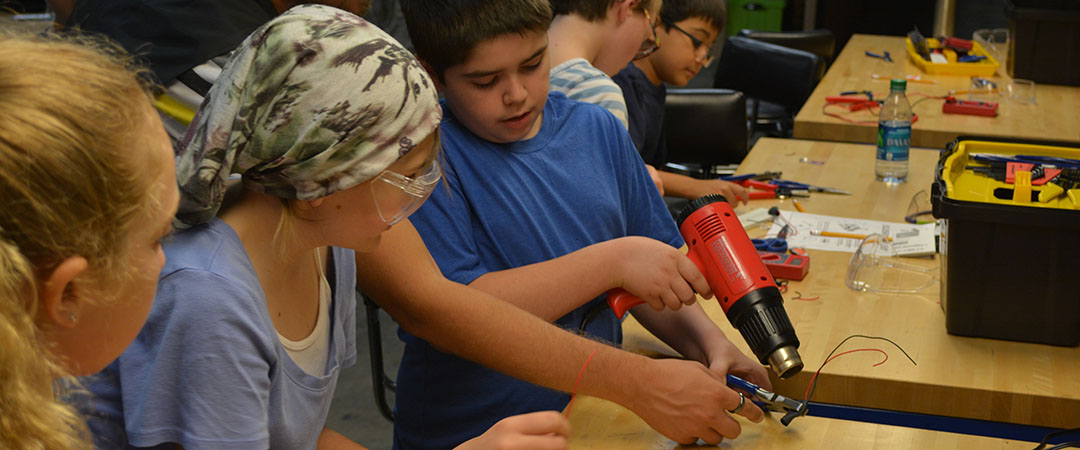 Summer Camps for 2017 start May 22!
Registration is now open! Scroll down to enroll.
This is not your traditional summer camp. We will challenge young students to use traditional and modern tools to work through projects and make things they never thought they could. Each day the kids will use real tools on real projects making plenty of saw dust and metal chips along the way. No wimpy projects here as we instill confidence and critical thinking into all of our students!
The Urban workshop summer camps run weekly Monday thru Friday from 9 am to 4 pm and are a compressed version of our traditional 12-week programs. In fact, taking the Level 1, 2 or 3 summer camps will qualify the kids to go straight in to the next Level 12-week program in the fall with our existing students.
Level 1 includes the following activities: Hand tools and bicycle mechanics, basic electronics and soldering, Fusion 360 CAD classes, 3D printing name desk plaques, laser etching model bi-planes, t-shirt silk screening, basic hand sewing bean bags, vacuum forming of masks, silicone molding medallions, wooden tic-tac-toe game and a wooden marshmallow crossbow.
Click here to download detailed Level 1 activities PDF.
Level 2 includes the following activities: Hand tools and small engine repair, Fusion 360 intermediate CAD classes, sheet metal fabrication, metal shop basics, MIG and spot welding, DC electric circuits, Arduino programming, Adobe Illustrator, vinyl cutting and woodshop keepsake box making.
Click here to download detailed Level 2 activities PDF.
Level 3 includes the following activities: MIG welding metal sculpture, Makerbeam construction, Arduino – servo motor control and sensors, basic robotics, reverse engineering skills, 2- part silicone molding, model finishing techniques and the extremely popular make your own skateboard wood shop class.
Click here to download detailed Level 3 activities PDF.
Please look closely at the schedule below as the classes vary each week from Level 1 to Level 3. Please be sure to select the correct class level when you register. It is required that all new students start with Level 1 as the programs build upon each other.